Dear parents, carers and family members,
I am writing to give you an update on our services and activities, as well as to let you know about some exciting new things coming up from us.  I also want to reassure you that our team will continue to do everything we can to support you and your loved ones through this difficult time.
Support for you
From speaking with the families that we work so closely with, we know that many of you are providing 24-hour care without respite which is incredibly tiring, and in many cases, isolating.  As well as supporting our members with learning disabilities it is also important to us that we are here for you, so I'm also pleased to let you know that we've been successful in getting funding to launch two new Carers groups:
Carers Coffee session every Wednesday afternoon
Yoga and relaxation session with Mandy every fortnight on a Thursday at 12pm
These groups are an opportunity for you to meet other carers, share experiences and take some time for your own wellbeing.  We would love to see you there so please let us know if you'd like to join us and we'll send you all the details.  
 Activities and Groups
As well as continuing our usual groups on Zoom I'm pleased to let you know that we have been successful in getting funding for some new groups and activities.  We are launching exciting new weekly Zoom groups for members including a song session, yoga and Friday film club, as well as planning a range of other regular zoom sessions based on feedback from members.
After lockdown, we will also be launching small outdoor activity groups; walks with friends and gardening.  These groups will be adhering to the latest guidance from the Government and kept small to help us reduce the risks but we know how important it is for member's wellbeing to have opportunities to see their friends and to keep active.  We've made a new timetable with the information about all groups that we're running so please let us know if your loved one would like to join a group.  As the groups have been fully funded until March there is no charge for accessing them.
One to One Support
We continue to provide support to members through our Independent Living Service which supports members to develop independence, do the things that they enjoy in the community and to learn new skills.  We know that some people can't access usual services at the moment, so are working hard to expand our capacity so that we can support more people.  This service can be funded through existing Direct Payments or privately, so please get in touch if you are looking for support.  (Please note that we cannot provide personal care or handle medication).   
Raising awareness
Throughout the last 6 months we've been sharing the experiences, challenges and questions that you've raised with us with our partners including the council and local CCG.  We will continue to speak up for our members and families and continue fighting to influence decision making and create positive change.  Please do continue to raise any concerns with us because it is your views and experiences that have the most impact. 
Pathways Project with Bexley Council
Some of you may have heard of this project in which the council are looking to improve experiences of people who require social care assessments by authorizing Trusted Partners to undertake those assessments or reviews on their behalf.  Bexley Mencap has agreed to become a Trusted Partner, along with 7 other Bexley charities, as we feel that we could provide high quality support to people with a learning disability and work to improve experiences of accessing social care.  Our staff are completing training at the moment and then will begin shortly.  If your loved one, or yourself as a carer, are due an assessment or review and would like us to do that with you then please get in touch and we can talk through what is involved.
Staff
As we're launching new groups and taking on extra work with the Pathways project we're happy to be welcoming Kayleigh and Vikki to our team who will help us run activities and support members. 
Please be reassured that we will continue to do all that we can to offer support to you and your loved ones.  If you have any questions or need support then please don't hesitate to get in touch,
To have a look at our new timetable and sessions please click on the image below: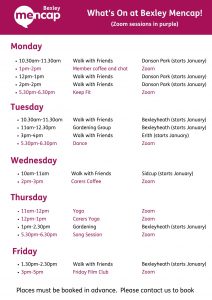 Kind regards,
Kara Lee
Chief Executive