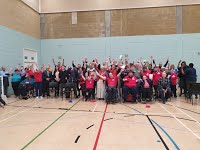 To celebrate Learning Disability Awareness week, Bexley Mencap
hosted an action packed Sports Activities event at Crook Log Leisure Centre on
Wednesday 19 June. There was a wide range of sporting activities for
participants to try, both indoors and outdoors, including Nordic Walking,
Cycling, Cricket, Boccia, Keep Fit, Walking Football and Spin (Virtual Bikes).
The theme of this year's Learning Disability Week was sport and
inclusion and this event was to give members an opportunity to take part in
different sports activities that they could then continue in the community;
breaking down barriers to fitness and highlighting that sport has the potential
to bring communities together.  
The Mayoress of Bexley gave the opening address and the event
also received a video message of support from Andy Barrow, former triple
Paralympian and GB Wheelchair rugby team captain.  Members of other local
organisations such as All Directions, Re-instate Ltd and Spotlight choir also
attended, bringing over 60 people together to get involved.  Participants
took part in up to 3 'taster' activities and there was a healthy buzz of
activity as members gained in confidence and enthusiastically participated. One
member summed up the feedback when she said 'It was great fun. I got to take
part in something new that I don't usually get the chance to do.'
All the activities were run by local coaches and specially
adapted to ensure Learning Disability members could fully take part. Members of
Bexley Mencap and other groups assisted and the event was open to all. Several
people remarked that it was great to see people with and without Learning
Disabilities taking part equally, enjoying themselves and encouraging each
other at the same time. 
The event wouldn't have been such a success without a range of
partners and supporters including Bexley Dodgers, Foxlee Fitness, Good Gym,
Parkwood Leisure, and all of the instructors who gave their time to make the
event such an enjoyable one.