How GoodGym and Bexley Mencap have done 50 good deeds together
As part of our theme this month, we asked GoodGym runners to tell us how they are 'giving heart'. Here, Nick writes about the bond that GoodGym and Bexley Mencap have forged and the difference it has made to their organisation and members.
Completing 50 GoodGym good deeds is always a cause for celebration. Even more so when three members of the same group do so within the space of a few weeks.
What makes it even more special is that all three members, Chris, Matt & Emanuele have Learning Disabilities. And they're part of a regular band of six Bexley Mencap runners who regularly pitch up on Monday nights to give back to their local community – sometimes making up over half of the group's Monday night membership.
'It's actually a lot more than 50 good deeds' says Nick Marsden, who works for Bexley Mencap and is also a GoodGym member. 'Because in the early days we didn't always complete the signing in form!'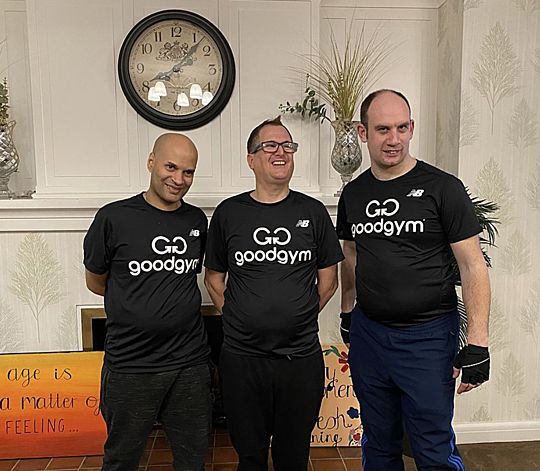 'I help run a Keep Fit group on Monday evenings for people with Learning Disabilities' explains Nick. It finishes just before GoodGym starts so one day members got curious at all those people in red t-shirts in the foyer and decided that they'd like to join in. We joke that our members don't need to warm up before the activity – they'd already been going for the best part of an hour!'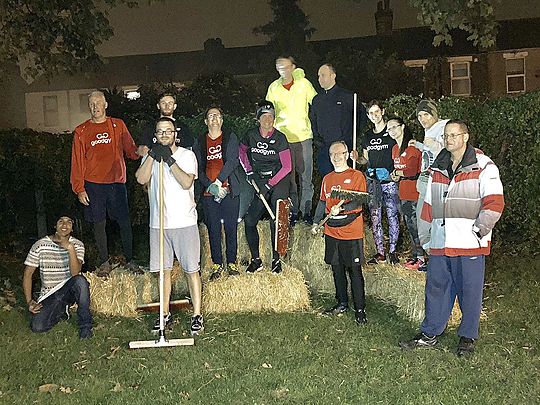 There was an practical side to joining GoodGym. Matt, Chris & Emanuele are on a two year Gateway Beacon Programme which is like a Duke of Edinburgh award – only tailored for people with Learning Disabilities. With Fitness and Volunteering being two elements of the award, GoodGym offers a great way for members to help out and try their hands at a range of volunteering tasks. 'It can be hard sometimes for people with Learning Disabilities to find meaningful volunteer work and take part in activities we might all take for granted ' says Nick, 'so to be able to be part of a friendly local group is ideal for members to build up their confidence and skills at the same time. The GoodGym ethos means no-one's left out and that's certainly the case in our GoodGym group where everyone mixes in and mucks out!'
Matt has now taken to running in a big way and completed 100 parkruns in the summer inside three years. Royal Mencap and parkrun were there to mark the occasion and the video they made of his landmark parkrun has attracted over 5000 hits. Matt also has dyspraxia which makes his achievements all the more remarkable.
Emanuele is also a parkrun regular and it's another yet example of how with a bit of encouragement one community activity soon leads to another.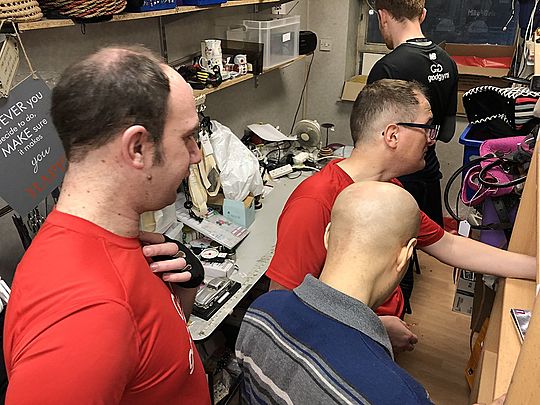 Chris is a dab hand with a paint brush and enjoys helping out in care homes as well as tasks such as sorting out the stock and pricing up the goods in Charity shops.
All three enjoy taking part in Monday night volunteering alongside other members working as a team to get the job done – like last Saturday when Matt and Emanuele volunteered for a community mission task – helping out to dig up the weeds at the Old English Garden in Danson Park. Oh and I better mention that they ran parkrun first!
'It's pleasure to be a part of such a great team which uses all of our talents and abilities whatever the task,' says Nick. 'It's GoodGym Bexley's third birthday on Monday 2 March so we'll all be out celebrating – but only after we get our task done!'
---
Get involved